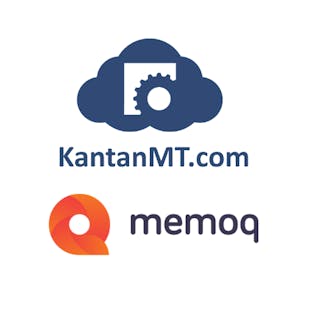 24 November 2020: KantanMT is pleased to announce an updated connector for industry-leading translation management system, memoQ as part of memoQ 9.6 which is due for release in December 2020.
Seamless integration is critical for organizations looking to build efficiencies, reduce costs, and maximise the value of translation technology. KantanMT is committed to partnering with the best in class tool providers so that users can benefit from high-speed, high-quality Neural Machine Translation embedded directly into localisation workflows.
"KantanMT has long been a partner of memoQ and we're excited about the upcoming 9.6 release which aims to provide faster workflows, increased management features, and extra security layers for users," says Dominick Kelly, Technical Solutions Sales Director at KantanMT." "Embedding NMT directly into existing workflows is essential for any localisation team, whether in an enterprise setting, an LSP, or indeed independent translators too. We're pleased that memoQ users can do this even more seamlessly now."
Increasing customer demands for high-speed, low-cost translations means that the sector needs to work together to ensure the latest innovations are made accessible for users. Over the last 5 years, there has been tremendous growth in the adoption of Machine Translation, and today Neural based machine translation is leading the way  – and through its partner network, KantanMT makes Neural MT accessible in a way that most makes sense – directly into existing workflows.
The KantanMT platform enables users to create customised Neural Machine Translation engines using translation memories (TMX), terminology files (TBX), and/or training sets and template engines. KantanMT users can also access KantanFleet, designed for users who have limited or no training data yet want to start using Neural MT right away.
memoQ is an industry-leading translation management system tailored to localisation team's needs. Like KantanMT, memoQ supports Enterprise, Localisation Service Providers (LSPs), and Independent Translators to help them drive more efficiencies, reduce costs, and improve productivity. memoQ users can access KantanMT Neural Machine Translated content directly into their workflow.
Getting started with KantanMT inside memoQ
memoQ users can start using KantanMT right away. Take a look at this knowledge base article which takes you step by step through the process.
memoQ users who are new to Neural Machine Translation and would like to discuss getting started on the KantanMT platform, please reach out to Jim Nolan (jimn@kantanmt.com).
About KantanMT
KantanMT is a pioneer in Neural Machine Translation solutions. Its market-leading platform, KantanMT, enables global organisations to customise, improve, and deploy Neural Machine Translation solutions at scale. The KantanSkynet Platform enables modern enterprises to deliver digital content in native languages, with always-on, AI-enhanced, crowd-sourced translation services. KantanSkynet combines the speed and cost-benefits of machine translation with the authenticity and precision that only a native speaker can deliver.
KantanMT is part of the Keywords Studios Group, the largest provider of global services to the video games and media and entertainment industries. It has offices in over 50 locations and delivers services to 23 of the top 25 games companies.
KantanMT is based in the INVENT Building, DCU Campus, Dublin 9, Ireland.
About memoQ
memoQ is a technology provider that has been delivering premium solutions to the translation industry since 2004. memoQ has been dedicated to delivering innovation through diverse developments that today help hundreds of thousands of freelance translators, translation companies, and enterprises worldwide.
Having simplicity and effective translation processes in mind, memoQ combines ease of use, collaboration, interoperability, and leverage in a single tool. Discover a new world with memoQ!